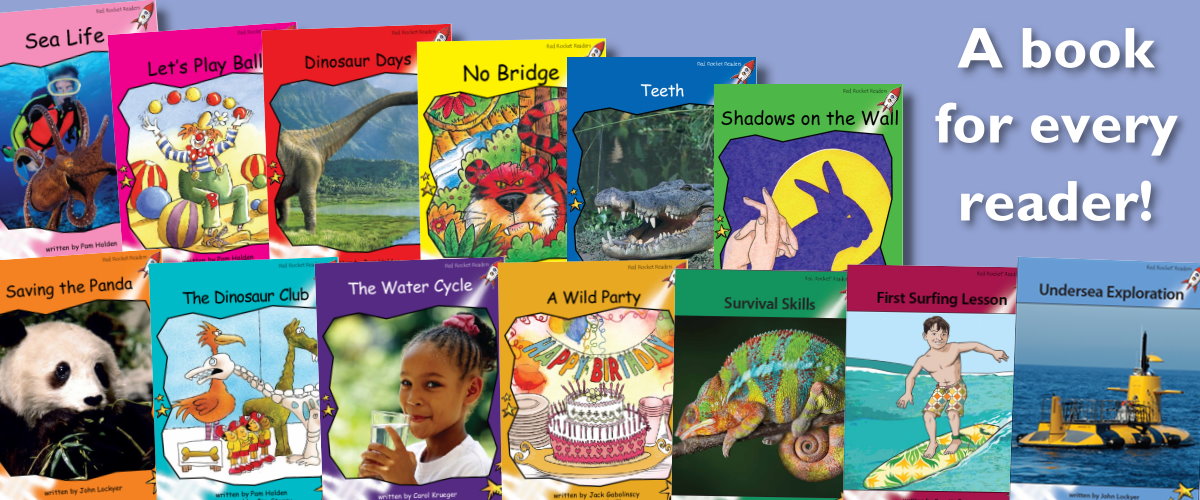 ---
Red Rocket Readers offer a carefully controlled sequence of challenges throughout the levels to ensure your students progress with confidence and enthusiasm.
Entertaining and engaging informational topics and fictional storylines are at the core of this comprehensive series of 600 leveled reading books for guided reading, shared and small group reading, remedial programs such as Reading Recovery.
Starting at Foundation Level with the multi award-winning Alphabet Explorers, we then move on to ten core levels – Pre-Reading and Emergent, four Early levels and four Fluency levels – each consisting of 48 illustrated fiction photographic non-fiction titles, all 16-page small-book format.
Organised into Sets A, B and C (based on publication date), with Fluency Level 3 and 4 Set C titles currently in production and due mid-2019.
Next, there are four Advanced Fluency levels, also known as Silver, Emerald, Ruby and Sapphire. Currently we have 16 24-page readers at each level – 8 fiction plus 8 informational – giving a total of 64 Advanced Fluency Set A titles. Set B titles are scheduled for future release from early 2019.
Click through to the Bookshop to view cover shots and page spreads of every title and sign up to our VIP list to access more than 30 complete eBook samples and download FREE Teacher Tools such as Worksheets, Lesson Plans, Lesson Briefs and Running Records.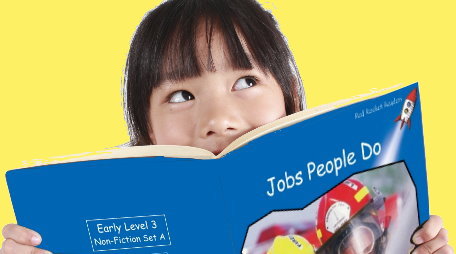 Child Focused
Red Rocket Readers are carefully designed to support children through the use of controlled natural language and appropriately sized, well-spaced and easy-to-read type.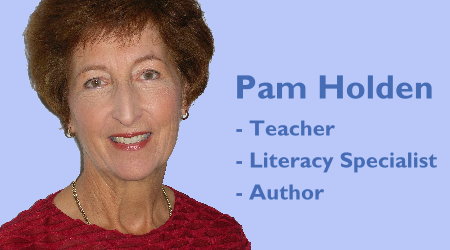 Teacher Driven
Developed by Pam Holden, a literacy specialist, Reading Recovery teacher and author, Red Rocket Readers have authentic teaching experience built-in to every feature.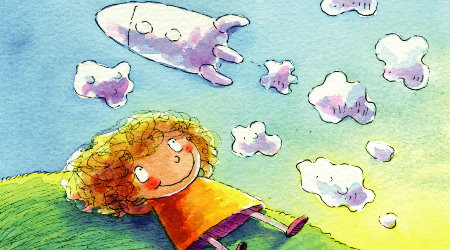 Fun!
Strong characters, humour and definable plots combine graduated word-recognition and language development with wonderful stories that children will really enjoy!
RED ROCKET READERS feature colourful, entertaining illustrations and photographs that support the text, launch oral discussion and develop student comprehension. The classic story structure (tension, climax and resolution) ensures children will want to engage with the texts.
develop and ensure the success of reading strategies.
enable students to read for enjoyment and information as they access meaning from fiction and non-fiction text.
feature meaningful concepts and experiences that children can relate to.
develop word recognition along with language development.
focus on increasing knowledge of print conventions, phonological patterns and phonic knowledge in context.
ideal for Guided Reading, Reading Recovery, ESL, ELL and other Special Needs and Remedial programs.
600 leveled reading books
a balance of fiction and non-fiction texts