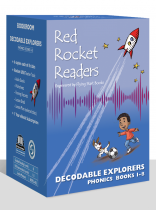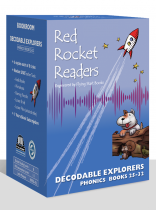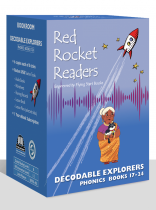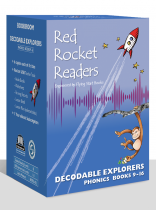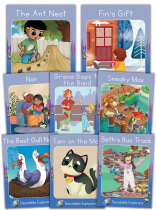 Decodable Explorers Bookroom
$1,798.66
  6pack + eBook 
---
PUBLICATION DATE: JUNE 2023 
New Decodable Explorers Bookroom from Red Rocket Readers contains 32 decodable phonics titles x 6 copies of each PLUS eBook Editions!
Worksheets reinforce and extend the learning while the eBook subscription in every box ensures books are always accessible.
Contains 192 books + 32 eBooks.
View Product contents in panel below.
Description
Contains 192 books + 32 eBooks:
Four Boxed sets, each containing 8 titles x 6 Copies :

Phonics Stage 1 Set A
Phonics Stage 1 Set B
Phonics Stage 2 Set A
Phonics Stage 2 Set B
Rocket USB Digital Teacher Tools (x1 USB Per box):

Audio Books
Worksheets
Lesson Briefs
1 Year eBook Subscription

School & Home access to all 32 titles
Red Rocket CLOUD app with ReadAloud editions
Read more about New Decodable Explorers here.